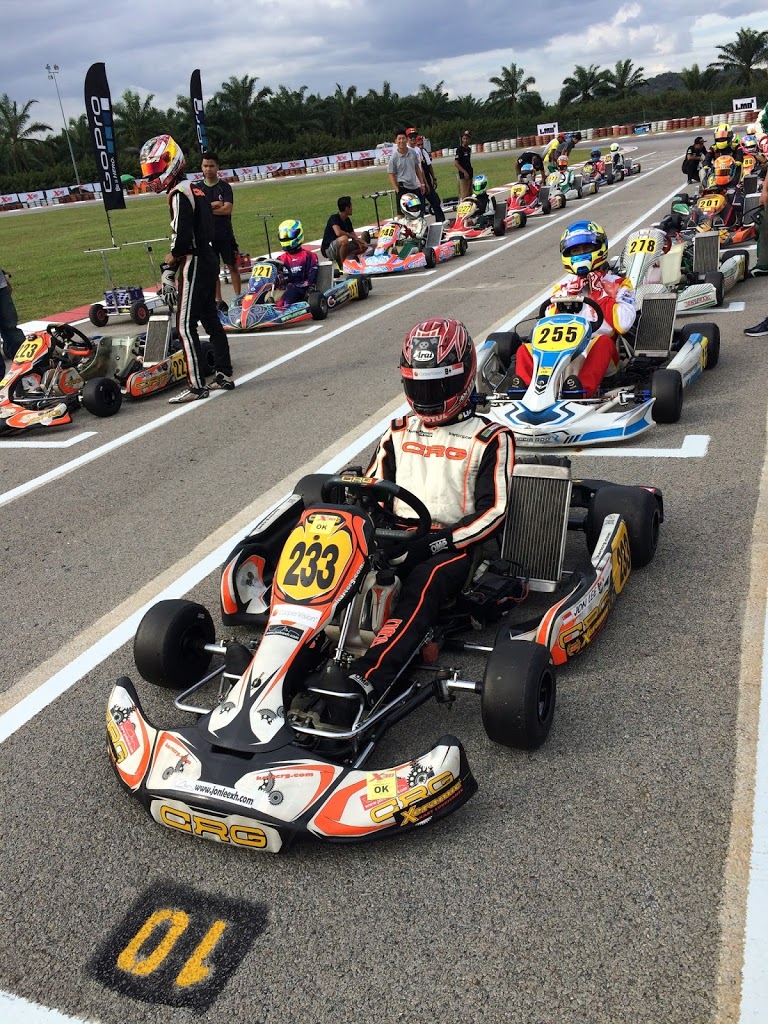 Latest updates…
18-19 February 2017, Sepang International Kart Circuit, Malaysia
The Inaugural X30 Asia Cup is being held in Sepang International Karting Circuit on the 18th

and 19th

February 2017.
This will be the first time Jon

is participating

in

an

X30 race out of Singapore.
Even though Jon raced numerous times successfully in Sepang,
it was
mostly on the Rotax engines. It will be a new challenge for the team to find the correct set-up for the X30 engine and Komet tires.
School ended 1230 hours for Jon on 17th

February and soon he rushed to Kuala Lumpur. Upon arriving at the track, the Friday practice sessions were coming to an end

and

thus

there was

no chance for him to do any testing.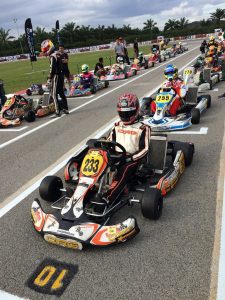 The team was only able to test for two sessions on Saturday morning as the first one was used to run-in the engine. In this X30 Asia Cup race, Jon

was

racing on the CRG kart. After the third session, his practices times were average by comparison to those drivers who had been testing in Sepang

for

the past few days. Overall, the team was optimistic as they

were

still learning and adapting. Qualifying went smoothly but Jon only managed to achieve position 10th. Based on information from other teams,

qualifying position was no doubt important but to be able to maintain consistency on the Komet tires would be the key factor.
Starting from outside of turn one, Jon was able to gain a few places after the start in Heat 1.
In Lap 2, while attempting to overtake the front driver, Jon's kart came into contact and was bogged down thus losing back a few spots. Subsequently, he was able to climb back and finished at 7th

position. Unfortunately, the earlier incident has caused his kart front bumper locking device to be dislodged. He was given a 10 seconds penalty and eventually demoted to position 20th.
Heat 2 was held on Sunday morning after one final morning practice session. The team made a few changes to the kart based on

Jon's feedback. This time, being more careful about the front bumper rule, Jon was able to finish at position 6th

without much incident.
Based on the points system, Jon started at position 13th

in the Pre-Final. It was again a clean start and he made up a few places. He has the pace to continue charging but was climbed from the side by the kart he just overtook as he was turning in at the back straight. Jon's kart was damaged but he still managed to continue and ended at a lowly position 16th.
The mechanic rushed

profusely

to repair the kart and was barely able to make it on time for the Final. Everything paid off when Jon was able to make a good start

again

and

by lap 2 he was already in the top 10 position. All drivers were using new tires for the Final, but Jon managed to find a bit more pace than most of them. He overtook

a

few more drivers to arrive at 4th

position and started to chase the front three drivers.
Nevertheless, after 20 laps, he was only able to close in on the third placed

driver but not

close

enough to overtake him.
Overall, with very little time to test the X30 engine and Komet tires in Sepang yet he was able to step on the podium, has been a great result. For sure, Jon will be eager to race in the X30 Challenge Rd 1 s
oon.