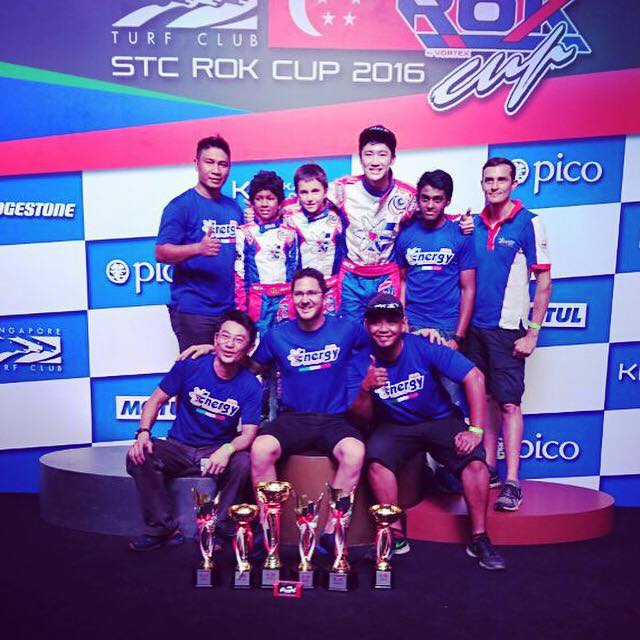 STC Rok Cup 2016 (Round 4)
STC Rok Cup 2016 (Round 4)
5 November 2016, KF1 Circuit
Having missed the first three rounds of the Rok Cup due to school commitments, I was back for the fourth round as school has relaxed and there was ample time to commit to the race. It was the first time since the Rok Finals in Italy last year that I've used a dvs engine again.
It was a race with many problems and issues that we could work on.
First practice was good with minimal problems other than some minor complaints about my engine pick up. Second practice was when the problems started with the engine dying 3 laps after i went out resulting in changes made to many parts of the engine. Third and fourth practice sessions went much better with minor issues that could be resolved.
On race day, practice was wet and we used old tyres so we were quite happy with second. However, during qualifying, I made a mistake on the last lap of the session in which the track was drying up. This resulted in another competitor making 6 tenths on the last lap to take pole.
Quarterfinals was decent as I managed to hit the front from the first lap and pull out a good gap, allowing me to cruise to the end. When we got to the Pre-finals, it did not start well as the kart would not start at the hold up. Thankfully after many changes by the team the engine did finally start and we got to the grid within minutes of the start. The race itself did not start well also as I dropped to second by the first corner but managed to regain the lead during the same lap. However, issues with the engine and a lack of aggression meant the chasing pack caught up and I had to defend for the remaining laps. I ended up finishing in third which was not ideal.
In the finals, the start was good as I managed to gain a position while trailing the leader. The engine was really tuned in and the kart felt good so I managed to

reel

him in and made the move on lap 12 (I think). After that it was just building

a gap

in between. On the second last lap, the second driver tried a move from a far way back but out-braked himself resulting in a collision which fortunately, I managed to get away from. This left me with a

comfortable

gap to second,

allowing me to cruise to victory.
Big thanks to my dad and the whole of Energy Corse Asia for providing me with an amazing package to race with. Also not forgetting Team Principal, Mr Josh Hunt for giving me valuable tips on where to improve my driving. While there were many unforeseen problems, we managed to pull through and it was a great result for us in the finals.