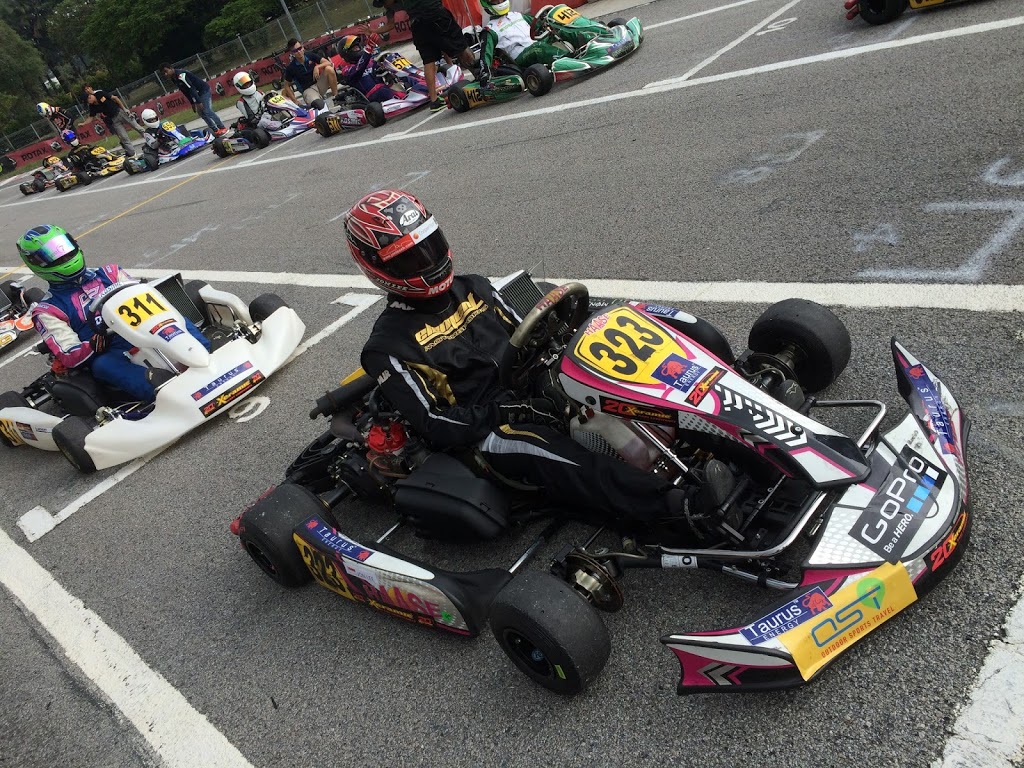 Race with no Testing
Asia Max Challenge (Round 3)
As a result of school commitments, Jon can only go to the Elite Speedway track on Saturday race day morning. In order to avoid the Mayday traffic jam, Jon set off at 2am from Singapore and arrived at the track 6am.
This round, Jon will be driving the same Element Motorsports DD2 kart from last round. On the first warm-up session of the day, Jon only went down for one lap & came back due to front brake problem. The uneven braking between the left & right wheel caused the kart to wobble and pull to the left. The mechanic rush to bleed the brakes and prepare the kart for the second 10 minutes warm-up session. Unfortunately, the problem persisted and Jon had to abandon testing of the kart. Upon returning to the pit, it was discovered that uneven wearing of the brake pads is the culprit. New sets of brake pads were fitted and the team can only hope that the issue had been solved. It was a good Qualifying as Jon managed to put himself 7th on the grid. This was a significant improvement compared to last round when he qualified 11th. In Heat 1, Jon was able to finish 7th without much incident. Just before Heat 2, it started to rain heavily accompanied with thunder and lightning. The officials had to postpone the race till tomorrow morning.
On Sunday morning, all the karters have a chance to test their kart during the final warm-up of the weekend. It was bad luck for Jon as the brake problem came back again when he was driving high speed downhill and crashed onto the barrier. With less than an hour till start of Heat 2, the mechanic can only bleed the brakes, as he spent most of the time to rebuild the kart front end. In Heat 2, Jon was driving with the brakes still pulling to one side. As he adjusted his driving to compensate for the uneven braking, he was braking much earlier thus loosing pace.
With that, Jon finished the race at 10
th
position.
With more than an hour between heat 2 and Pre-Final, the mechanic was able to change one side of the brake caliper. In Pre-Final, the kart felt better but Jon was still compensating for the uneven braking. Even though he was not maximizing his pace, Jon was able to finish 8th.
Just before the Final, the mechanic changed the brake caliper again. The problem was minimized in the Final but started to occur during the end part of the race. Nevertheless, Jon was able to run his true pace in the early part of the race and eventually finished at position 7th.
A well-deserved finishing for an eventful race weekend marred with brake problems.